I have been blogging off and on since… 2009. EEK. I had a personal blog and a more "business" blog. Facebook and Instagram have kind of taken the place of that outlet for me. This week Ryan asked me if I could send him our blog post on Hydrostatic Testing. Yikes, I said, it is really old. I looked it up and found it online and happily, it was still pretty relevant. In fact, for many years it was my most read blog post. So… here it is for you again.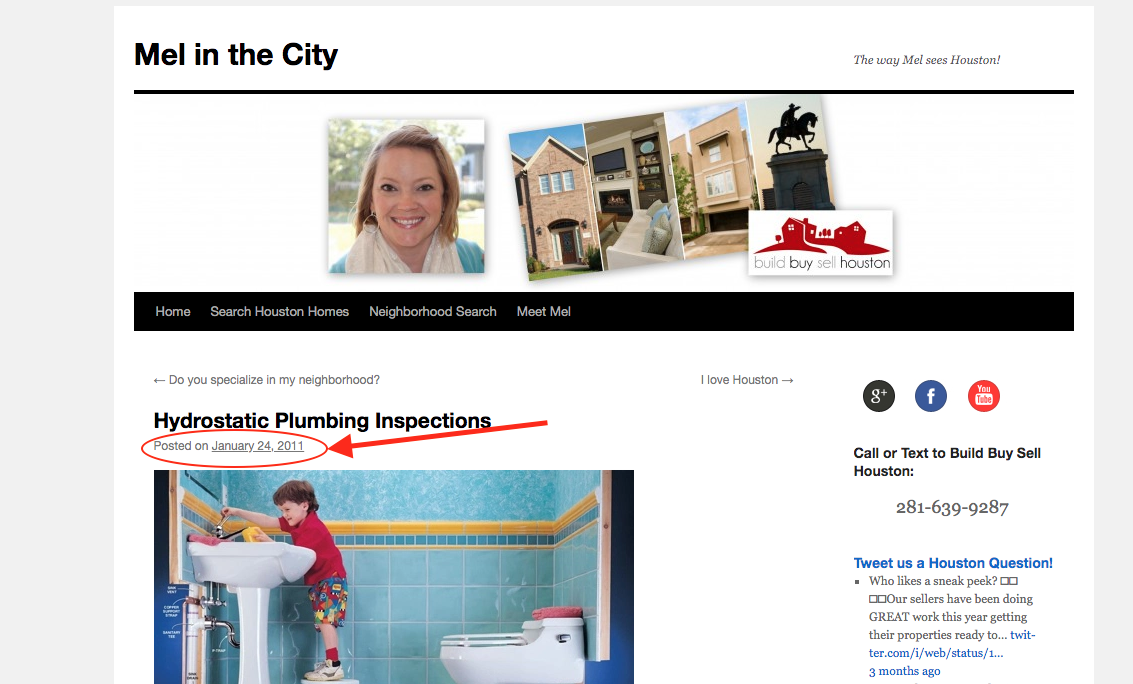 PS. The Melissa Hunzeker's Life List and some of the RV posts (running from Super Storm Sandy) are classics from my personal blog if you want to reminisce with me.
On to the Hydrostatic Post From 2011:
Oh hydrostatic testing. How I loathe you. It isn't that you aren't valuable or worthy of my time, you are just so confusing. (Did I just have a conversation with an inspection?)
Are you buying a home built before 1950? 1960? Chances are you should have a hydrostatic test and plumbing inspection. You may wonder, what is a hydrostatic test? From Church Services website: "A Hydrostatic Test determines if there is a leak under a house or building in the sewer line system. If the system leaks, an Isolation test is performed to 'isolate' where the leaks are located."
Seems simple enough right? Wrong. In a home that is more than 60 years old there is a fair chance that there has been a plumbing repair at some point. There are cast iron, galvanized, PVC, and concrete lines. Sometimes all in the same home, I have been in such homes! While the bathroom has shiny new hardware what we can't see can be a problem. It really isn't shocking that people generally repair just what is broken, not a whole line out to the street. There are lines in the house, in the yard, from the street, from the back of the house. And they aren't always connected. And it is very common for there to be some issues.
Every inspection I have attended has had some kind of problem. Now, that doesn't mean it is always a big problem. And when you buy an older home most buyers expect additional maintenance. The key is determining what the problems are.
Currently I am sitting in a kitchen in the 3rd hour of a hydrostatic inspection. (Good thing I have my trusty ipad to tell you all about my afternoon.) This is a gorgeous home with a updated kitchen and bathrooms. Including new plumbing lines on the interior of the home. Turns out though, the exterior lines are the original concrete and they do have roots growing through them. So, instead of a simple test (there are never simple tests) they have to bring out a second machine with a camera that will plow through the lines (not good enough to actually clean them you have to have them come back out for that) and determine how bad the damage is. The current homeowner has likely been living with the tree root clogged lines for years and they probably have never noticed a problem.
What do we do? The moral of the story is that you need to be advised what you are getting. Just like a routine inspection, a hydrostatic inspection allows you to be an educated buyer. And perhaps you can even negotiate repairs from the seller. Inspection advice is one of the areas it is critical to have a knowledgeable Realtor. As a Realtor I am always evaluating the people I recommend to make sure my clients are getting the best experience. While no inspection can completely protect you, you can be thorough before buying a home. If you or anyone you know might need advice like this, give me a call.